JOURNEY TO DISCOVER THE TYPICALITIES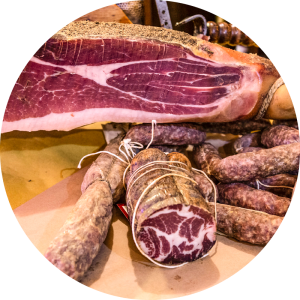 Here the land is generous and offers excellent raw materials that, cured and prepared according to a tradition of recipes handed down and experimentation, return a truly unique range of specialties. The food and wine of the Alte Marche is the result of an ancient heritage. Equally valuable is the food and wine that has developed in more recent times thanks to the passion and professionalism of local breweries and restaurateurs.
Among the most famous specialties we find dishes based on truffles or mushrooms, it grows on the grill, le penciarelle, the ottofile corn polenta, the typical bread, the sour cherries, traditional meats, desserts made as they once were, all to be enjoyed with a good glass of wine or a pint of local beer.
In this territory, quality rhymes with happiness
THE FOUR SEASONS OF TASTE

WINTER
A grows in front of the fireplace, a nice plate of polenta, a tasty slice of bostrengo or a castagnola: each refreshment point will pamper you with the taste and warmth of a family environment.

SPRING
Make way for festivals and events! Spignoli mushrooms, wild asparagus, our bread… even more delicious with homemade black cherry jam and a good glass of Verdicchio.

ESTATE
Local cuisine is at its best, even more if enjoyed outdoors! Even a platter of typical cold cuts accompanied by a local beer turns out to be an authentic masterpiece.

AUTUMN
No hibernation: King White Truffle arrives! Handmade tagliatelle with truffle or porcini mushrooms, a tasty "salmì del prete" with game, the new wines from our cellars: this season is the triumph of taste!