SULLE ORME DEI RICERCATORI DELLO SPIRITO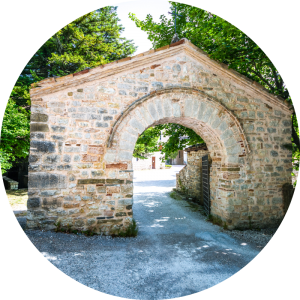 Da sempre la spiritualità ha incoraggiato incontri tra differenti religioni e culture, aprendo a nuovi orizzonti di conoscenza. Today, come mille anni fa, il Monastero di Fonte Avellana è il centro spirituale e culturale attorno a cui ruota tutto il prezioso patrimonio di chiese, pievi, abbazie ed eremi.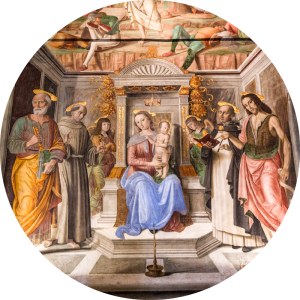 Ma il luogo dell'anima per eccellenza è la natura. Per questo i silenziosi prati, le valli rigogliose e le albe dorate del territorio si rivelano l'ambiente ideale per ritrovare se stessi: sono meta e sono passaggio, rifugi dove l'accoglienza è al primo posto.
Lungo il percorso

,

ognuno può trovare qualcosa di meraviglioso
LO SPIRITO DEI CAMALDOLESI
Lo splendido Monastero di Fonte Avellana fu fondato grazie a San Pier Damiani, alla cui forte personalità si deve non solo il nucleo originario, ma soprattutto l'impulso spirituale, cultural and organizational that made the hermitage a center of attraction and dissemination of monastic life, influendo fortemente sulla riforma religiosa e sulla vita sociale del territorio. Thanks to this outstanding figure, il monachesimo avellanita e camaldolese ha rappresentato, in its centuries-old history, uno dei fulcri del cristianesimo e della spiritualità. Ancora oggi il Monastero rimane centro attivissimo di eventi, animando incontri, convegni e concerti durante tutto l'anno: il fiore all'occhiello delle Alte Marche spirituali.
MEDITARE A CONTATTO CON LA NATURA
La meditazione è una straordinaria esperienza di incontro, uno strumento che unisce persone al di là del proprio credo attraverso il valore della vita, della pace e della consapevolezza. Per rendere ancora più profonda questa esperienza introspettiva, le Alte Marche offrono la possibilità di praticare la meditazione a contatto con la natura, su un altopiano, in vetta a una montagna, nel cuore di un bosco, all'alba o al tramonto.